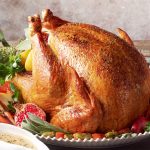 Print Recipe
HOW TO COOK A TURKEY
Instructions
Prepare desired stuffing.

Release turkey legs from leg clamp. If desired, remove leg clamp from body cavity. Remove giblet bag and neck; drain and pat dry with paper towels. Sprinkle inside of cavity with salt. Just before roasting, spoon some stuffing into neck cavity. Pull neck skin over stuffing; fasten to back with a short skewer.

STUFFED-Loosely spoon stuffing into body cavity (no more than 3/4 cup stuffing per pound of turkey.) 00 not pack stuffing tightly, or it will not get hot enough by the time the turkey is cooked. (transfer any remaining stuffing to a casserole dish, adding 1 to 2 tablespoons chicken broth, if desired, for additional moistness; cover and chill casserole.) tuck legs under band of skin or reset into leg clamp. If leg clamp has been removed, tie legs together with string. Twist wing tips under back.

UNSTUFFED-Rub salt generously in cavities and, if desired, insert a few pieces of celery, carrot and onion to improve flavor. Fold neck skin to the back and fasten with skewer. Tuck legs back into the clip.

Place stuffed turkey, breast side up, on rack in a shallow roasting pan.Brush with butter or oil. Cover turkey loosely with foil, leaving some space between the bird and the foil.

Roast in a 325F for approximately 20 minutes per pound or until meat thermometer registers 165F and juices run clear. The center of the stuffing should be at least 165 F. Add covered casserole of stuffing during the last 30 to 45 minutes of roasting. If desired, during roasting, baste the turkey occasionally with drippings. Remove the foil the last 30 to 45 minutes to let the bird brown.

Remove turkey from oven and cover loosely with foil. Let stand for 20 minutes before carving. Release legs from leg clamp, or snip string or band of skin. To avoid possible burns, do not remove leg clamp from the hot bird after roasting. Remove stuffing from turkey. Carve as desired.